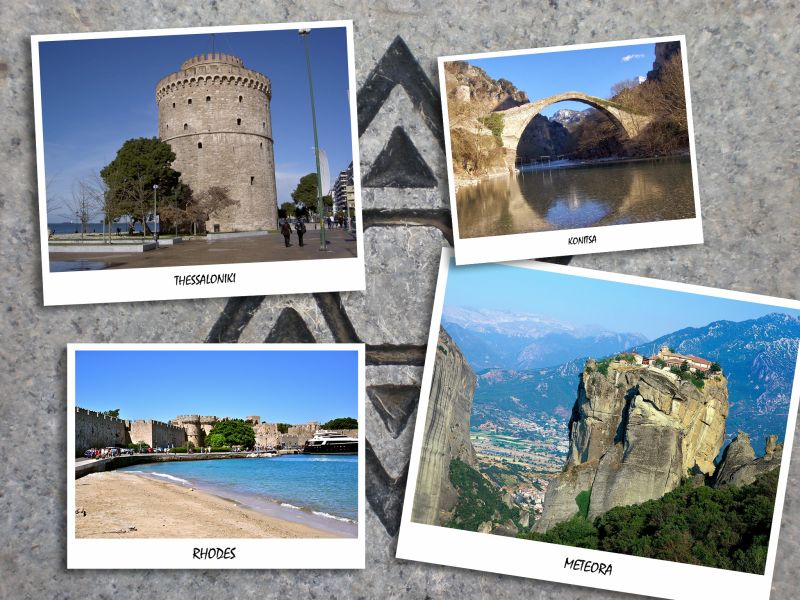 A Jewish traveller can discover a lot of fascinating things when touring around Greek Jewish communities. Of course, given the distances between the cities of Jewish interest, it is very difficult to combine everything in one trip. Please find below an example of a 9-days itinerary for a group of observant Jews who visited Greece in summer 2014. It covers all the Jewish communities of Greece's mainland to a great extent, leaving out only the ones on the islands of Corfu, Rhodes and Crete (Chania). Whether you are interested in a group tour or in a private tour, don't hesitate to contact us if you plan to visit our beautiful country. We can arrange a tour based on your personal needs and requirements.
The Jewish presence in Greece dates back to the 6th century BCE, when the first Jews came to settle in the Greek territory after the destruction of Solomon's Temple. These Jews established strong communities, long before the Roman invasion. When the Romans conquered Greece in 146 BCE., the Greeks called themselves «Rhomaioi» (citizens of Rome), while the Jews, in order to differentiate themselves from their fellow Greek citizens who were pagans at that time, called themselves «Romaniotes», which means «citizens of «Romania» (the word «Romania», in this context, indicates the eastern part of the Roman Empire, and bears no connection with the state of Romania). After the expulsion of Jews from Spain and Portugal, a lot of Sephardic Jews settled in the Balkan region, mostly in the Northern part of Greece. In addition, some Ashkenazi Jews arrived in Greece following the newly appointed King Otto of Bavaria in the 19th century. This mixture of the "indigenous" Romaniotes and the newcomers, formed a population of approximately 80.000 people on the eve of WWII. Unfortunately, of these 80.000 Jews, only one-eighth, that is, 10.000 souls, survived the war. Today, less than 4.500 Jews live in Greece. Jewish Tour Throughout Greece
During WWII, Greece suffered one of the highest percentage of losses in Jewish population (87%). Before the war, there were Synagogues in over 32 cities. Only in Thessaloniki (also known as Salonica) there were more than 60 functioning Synagogues! Unfortunately, the vast majority of them was, either burned down by the Nazis, or never reclaimed, as, in most towns, no Jews came back… Nowadays, there are 8 active communities, however, most of them are facing a population decline… We are very lucky and proud that some of our holy sites like Synagogues, cemeteries and monuments, are still standing and being preserved, thus helping us and the new generations maintain Greek Jewry's traditions alive.
Arrival to Athens – Chalkis (85 km.)

10:00 – Arrival at Athens International Airport, welcoming.
10:45 – 12:00 Transfer via the suspension bridge to Chalkis, capital of the island of Evia, where the oldest registered Jewish Community of Europe still exists today!
12:00 – 12:30 Nice promenade along the sea and the Evripos "Sliding" Bridge
12:30 – 13:30 Lunch by the sea at a nice restaurant
13:30 – 13:45 Walk to the beautiful Romaniote Synagogue built in 1855
13:45 – 14:45 Guided tour of the Synagogue, Mincha
14:45 – 15:00 Walk to the cafeteria by the seashore
15:00 – 16:00 Coffee break at a nice cafeteria by the sea
16:00 – 17:15 Transfer to the classy 5* Athens Ledra Hotel
17:15 – 17:30 Check-in at the hotel
17:30 – 19:30 Free time for shower and rest
19:30 – 20:00 Transfer to Chabad's kosher restaurant "Gostijo"
20:00 – 21:30 Dinner at the restaurant, Arvit
21:30 – 21:50 Transfer to the Constitution Square
21:50 – 22:10 Watch the ceremonial changing of the guards in front of the Tomb of the Unknown Soldier
22:10 – 22:30 Return to the hotel for overnight

Athens – Trikkala – Meteora – Ioannina (447km.)

07:00 – 08:00 Shachrit
08:00 – 09:00 Bring the luggage to lobby, breakfast
09:00 – Departure (check-out) from Hotel
09:00 – 14:15 Transfer to Trikkala (with 2 short stops on the way for lunch at a rest-area)
14:15 – 15:15 Visit the "Kahal Kadosh Yevanim" Romaniote Synagogue, Reading of the Torah (Rosh Chodesh Tamuz) & Mincha
15:15 – 16:00 Transfer to Kalampaka, at the feet of the magnificent Meteora rocks
16:00 – 17:00 Panoramic tour of the Meteora rocks, a UNESCO World Heritage Site, in a spectacular scenery, considered among the most inspiring in the world!
17:00 – 19:00 Transfer to Ioannina, a beautiful lakeside town, capital of Epirus prefecture
19:00 – 19:30  Welcome drink, check-in
19:30 – 20:30 Free-time for shower/rest and dinner preparations
20:30 – 22:00 Dinner at the hotel, Arvit, overnight

Visit Ioannina – Boating on the lake – Zagori mountains

07:00 – 08:30 Shachrit & breakfast
08:30 – Departure from hotel
08:30 – 08:50 Transfer to the old Jewish quarter by the lake
08:50 – 11:00 Guided walking tour of the old Jewish Quarter, the Holocaust Memorial and the magnificent Romaniote Synagogue "Kahal Kadosh Yashan" inside the Ottoman fortress, built in 1829, Kel Maleh Rachamim prayer
11:00 – 11:15 Walk to the dock to take the boat
11:15 – 11:30 Transfer by private boat to the picturesque island in the middle of the lake
11:30 – 12:45 Free time for walking and shopping
12:45 – 13:45 Lunch by the lake
13:45 – 14:00 Return from the island to Ioannina by private boat
14:00 – 15:00 Transfer to the beautiful Monodendri village (Zagori mountains)
15:00 – 16:00 Coffee-break
16:00 – 17:30 Return to the hotel via the beautiful bridges of Zagorochoria
17:30 – 19:30 Free-time for rest & dinner preparations
19:30 – 19:40 Early candle lighting at a private room in the hotel used as Synagogue
19:40 – 20:40 Mincha and Kabbalat Shabbat services
20:40 – 22:40 Kiddush and Shabbat dinner at the hotel, overnight

Shabbat at Ioannina

08:00 – 09:45 Tea-room with coffee and cake
08:00 – 09:00 Daf Yomi at the Synagogue
09:00 – 11:00 Shabbat morning services including reading of the Torah by cantor Haim Ischakis and other volunteers
11:00 – 12:00 Kiddush with wine, whiskey and cake at the dining-room
12:00 – 14:00 Lunch with Divrei-Torah between courses during the meal
14:00 – 14:30 Mincha services-Reading of Torah at the private room used as Synagogue
14:30 – 17:00 Free time to walk along the lake or rest and relaxation
17:00 – 18:00 Tea-room with snacks and light drinks
18:00 – 19:30 Free time
19:30 – 21:50 Seuda Shlishit with Divrei-Torah
21:50 – 22:30 Avdalah and Arvit services

Ioannina – Metsovo – Veria – Salonika (290km.)

07:00 – 08:00 Shachrit
08:00 – 09:00 Bring the luggage to the lobby, breakfast
09:00 – Departure (check-out) from hotel
09:00 – 09:45 Transfer to the traditional mountain village of Metsovo
09:45 – 11:15 Stroll around the village and the colorful souvenir shops
11:15 – 13:00 Transfer to the green city of Veria, which lies on the slopes of Mount Vermion in a landscape of incomparable beauty
13:00 – 14:30 Lunch by the Tripotamos river
14:30 – 15:30 Guided walking tour of the old Jewish district and the recently restored Synagogue where Saint Paul of Tarsus preached Christianity in 50C.E.
15:30 – 17:00 Transfer to Salonika (Thessaloniki), capital of the region of Central Macedonia and second largest city in Greece, most populous Sephardic city for over 400 years, Madre de Israel and Jerusalem of the Balkans
17:00 – 19:30 Check-in, free-time for rest
19:30 – 20:00 Transfer to the community's kosher restaurant
20:00 – 21:30 Dinner at the restaurant
21:30 – 22:00 Return to the hotel, overnight

Visit Salonika

07:00 – 09:00 Shachrit & breakfast
09:00 – Departure from hotel
09:00 – 09:30 Transfer to the Monastirlis Synagogue, built in 1927 by Jews originating from Monastir (former Jugoslavia)
09:30 – 10:15 Guided tour of the Sephardic Synagogue, the only one that survived WW2
10:15 – 10:30 Walk to the Yad Lezikaron Synagogue, dedicated to the memory of the 55.000 Salonikan Jews victims of the Holocaust
10:30 – 11:30 Guided tour of the Synagogue and reading of the Torah
11:30 – 11:45 Walk to Eleftherias square, where the persecutions of the Jewish population of Thessaloniki started in July 1942
11:45 – 12:00 Visit the impressive Holocaust Memorial, pictures
12:00 – 14:00 Free-time for walking, lunch and shopping at the city centre
14:00 – 15:30 Panoramic city tour, highlighting former Jewish owned villas and the old walled upper city (Ano Poli)
15:30 – 16:00 Return to the hotel via Mediterranean Cosmos Shopping Mall
16:00 – 19:15 Free-time for shopping, rest or swim in the outdoor pool, Mincha
19:15 – 19:45 Transfer to the community's kosher restaurant at the city centre
19:45 – 21:15 Dinner and Arvit at the restaurant
21:15 – 21:30 Transfer to the White Tower, landmark of Salonika
21:30 – 22:00 By Night tour by boat to the Thermaic Gulf of Salonika
22:00 – 22:30 Return to the hotel for overnight

Salonika – Volos – Athens (517km.)

07:00 – 08:00 Shachrit
08:00 – 09:00 Bring the luggage to the lobby, breakfast
09:00 – Departure (check-out) from hotel
09:00 – 12:30 Transfer to Volos, capital of Magnesia Prefecture, surrounded by beautiful mountains and a charming bay
12:30 – 13:00 Visit the impressive Holocaust Memorial, pictures
13:00 – 13:15 Walk to the Jewish Club
13:15 – 14:15 Lunch at the Jewish Club
14:15 – 15:15 Visit the Romaniote Synagogue, Mincha
15:15 – 15:30 Walk back to the bus
15:30 – 20:15 Transfer to Athens
20:15 – Arrival to Chabad's kosher restaurant
20:15 – 22:00 Dinner and Arvit at Chabad's restaurant
22:00 – 22:30 Transfer to Athens Ledra Hotel
22:30 – Check-in, overnight

Visit Athens and the famous Canal of Corinth

06:50 – 08:50 Shachrit & breakfast
08:50 – Departure from hotel
08:50 – 09:30 Short panoramic city tour which will end to Acropolis
09:30 – 11:30 Guided tour of Acropolis, famous UNESCO World Heritage Site
11:30 – 14:00 Free time for shopping and lunch in Plaka area
14:00 – 15:15 Transfer to the magnificent Isthmus (Canal) of Corinth
15:15 – 16:15 Visit the canal, group pictures
16:15 – 18:00 Return to the hotel via Piraeus
18:00 – 19:30 Free-time for shower/rest
19:30 – 20:00 Transfer to Chabad's restaurant
20:00 – 22:30 Special last night dinner and Arvit at the restaurant
22:30 – 23:00  Return to the hotel for overnight

Return to Israel

07:00 – 07:30 Shachrit, bring the luggage to lobby
07:30 – 08:15 Light breakfast (coffee/tea, orange juice, cereals and whole fruits)
08:15 – Departure (check-out) from Hotel
08:15 – 09:00 Transfer to Athens airport